Pulse Laser
Nd:YAG LASER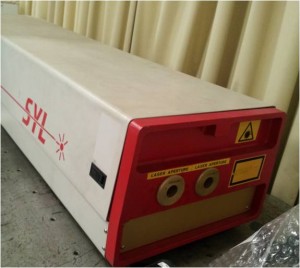 Appearance of Nd:YAG laser
Nd:YAG Laser manufactured by QUANTA SYSTEM.
Spec
wavelength:1064nm&532nm
MAX energy:2J/pulse
pulse duration:5-6ns/pulse
pulse diameter:9mm
Nd:YLF LASER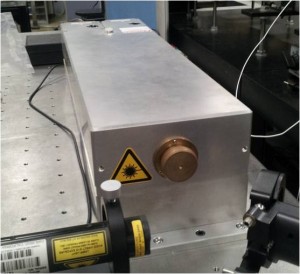 Appearance of Nd:YLF laser
Nd:YLF Laser manufactured by EdgeWave
Spec
wavelength:1047nm
MAX repetitive frequency:10kHz
MAX energy:8mJ/pulse
pulse duration:7ns/pulse
Nd:YVO4 LASER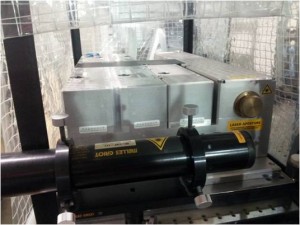 Appearance of Nd:YVO4 Laser
Nd:Nd:YVO
4
Laser manufactured by EdgeWave
Spec
wavelength:1064nm
MAX repetitive frequency:100kHz
MAX energy:8mJ/pulse
pulse duration:10ns/pulse
pulse rectangular size:6mm×6mm
CO2 laser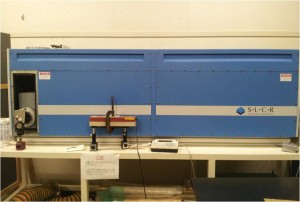 Appearance of CO2 laser
This laser can exposure maximum 12J energy in 50Hz. We use this in V-LITA or for ablative impulse measurement with repetitively pulsed laser irradiations.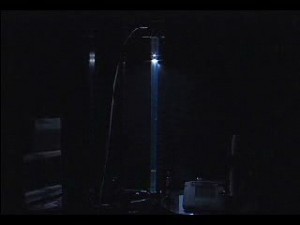 Laser-driven in Vacuum-Tube Accelerator(V-LITA)
mouseover the image
(show in another display)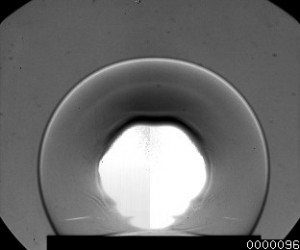 Visualization of vortex by interaction between laser-induced plasma and shock wave
mouseover the image
(show in another display)
V-LITA(show in another display)
Spec
SLCR-Lasertechnik GmbH, ML205E, wavelength:10.6mm, maximum energy:12J/pulse、maximum frequency:50Hz, FWHM(primary peak):140ns, 90%pulse energy width:3ms, beam diameter:55mm)
Reference
A. Sasoh, N. Urabe, S. Kim and I. -S. Jeung, Impulse scaling in laser-driven in-tube accelerator, Applied   Physics A, Vol.77, pp.349-352, 2003.
X. Yu, T. Ohtani, S. Kim, T. Ogawa, I-S. Jeung and A. Sasoh, Blast wave characteristics under laser-driven   in-tube accelerator operation conditions, Science and Technology of Energetic Materials, Vol.66 (2), pp.274-  282, 2005.
A. Sasoh, N. Urabe, S. Kim and I.-S. Jeung, Impulse dependence on propellant condition in laser-driven in-  tube accelerator, Transaction of the Japan Society for Aeronautical and Space Sciences, Vol. 48, No. 160,   pp. 63-70, 2005.
K. Watanabe, K. Mori and A. Sasoh, Ambient Pressure Dependence of Laser-Induced Impulse onto   Polyacetal, J. Propulsion and Power, Vol.22, No.5 2006, pp. 1148-1151.
A. Sasoh, T. Ohtani and K. Mori, Pressure effect in plasma-shock wave interaction induced by laser pulse   irradiation over a parabola, Physical Review Letters, online 16 November 2006, in issue 20 of Volume 97,   article 205004.
森浩一,大谷俊朗,佐宗章弘, レーザパルスにより誘起されるプラズマ-衝撃波干渉場, 機械学会論文集B, in   press.